FATMAGUL'UN SUCU NE SERIES SYNOPSIS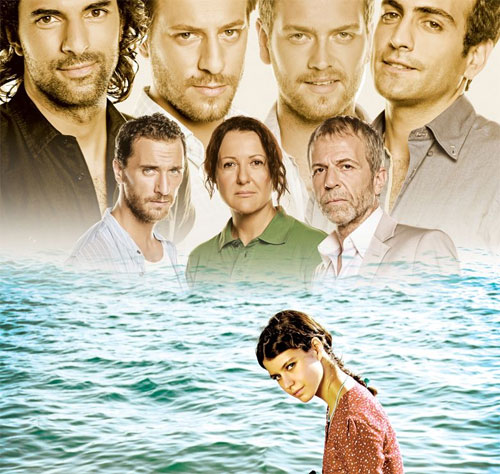 Fatmagul ( Beren Saat ) lives in a small fishing village. She is engaged to a fisherman but one night while going to meet him from his fishing trip she comes across four men. The men are all drunk and Fatmagul is raped by Erdogan, Selim and Vural. The other man Kerim ( Engin Akyurek ) is passed out and cannot remember anything that happened. Erdogan and Selim are confident their families will cover for them, Vural is deeply affected, and Kerim after being pressurised agrees to take the blame and marry Fatmagul who hates them all.
Fatmagul and Kerim live with her brother Rahmi and his wife Mukkades. Kerim soon starts to fall in love with Fatmagul bit she doesn't want anything to do with him. He tells her that he wasn't the one to rape her she doesn't believe him and tells him to prove it. So he confesses to the police what happened and also gets the other men arrested so that a trial can prove the truth.
Fatmagul is an excellent series with some wonderful actors. It was a huge hit in Turkey and also in other countries around the world. It has been dubbed into several languages and also brought to the forefront the subject of rape.
CAST
Beren Saat ( Fatmagul ) A quiet girl engaged to be married and her world implodes when she is attacked by a group of men.
Engin Akyurek ( Kerim ) An honest reliable man who was bulldozed by his friends into taking the responsibility for the attack on Fatmagul and is forced to marry her.
Other cast members
Engin Ozturk ( Selim ) One of the men who attack Fatmagul and is helped by his family to avoid prosecution.
Bugra Gulsoy ( Vural ) He deeply regrets the attack on Fatmagul and it affects him deeply.
Kaan Tasaner ( Erdogan ) Attacked Fatmagul and tries to avoid being convicted.
Esra Dermancioglu ( Mukkades ) Fatmaguls sister in law..very annoying and sneaky.
Bulent Seyran ( Rahmin ) Fatmaguls brother. He loves her a lot and stands by her. Constantly browbeaten by his wife Mukkades.
Fatmagul was broadcast in 2010/2012. It aired on Kanal D and was an Ay Yapim production. There are 80 episodes split between two seasons. It was directed by Hilal Saral.
Written By – Rachel Labidi
All Rights Reserved The video contents on the post (if applicable) is owned by its original producers and all credit to them